Come; connect with a forest where tigers breath the same air as you and horn-bills plant seeds to create complex eco systems. Walk with our naturalists to witness glowing fungi or take a jeep drive to marvel at ancient icons of a bygone era. At Swapnagandha. Where every step is green. For a list of activities do connect with our naturalist team.
The entire Swapnagandha valley and its surrounding Mahdei region is a recognized Important Bird Area. With the nesting site of the Long Billed Vulture, and the documentation of over a dozen species of Western Ghats endemics including the Nilgiri Wood pigeon, the Malabar Grey hornbill and threatened species like the Sri lanka Frogmouth in the area, Swapnagandha is a birders paradise.
The mildly undulating terrain and the inter crossing forest paths provide remarkable opportunities for nature walks and trails and many of these have been identified as great birding areas too. Go on a nature walk with our guides and experience nature at its very best. Besides which the joy of a slow drive into the realm of thick forests is a breathtaking experience and can be had with prior request at our reception at Swapnagandha.
At Swapnagandha the best activity one can do is to do nothing. With ethereal view from one own cottage, a hammock under every conceivable shade and the continuous birdsong that fills the air, we suggest the best thing to do is to relax ones mind and soul and return rejuvenated home.
Meditations means being one with you, and where else can one be with one's own self than in the lap of nature. We urge you to sit and open yourself to natures sounds and scents, to look at all things small and marvel at the life forms that abound this green paradise. The Meditation center can be used by guests and the Guest relations team would suggest other places too on request.
Swapnagandha supports self help groups and cultural troupes in the region which include folk dances, recital of folk songs and visits to sites of cultural interests. The staff itself has an assortment of talent that include expertise in singing of folk songs as well as playing of local musical instruments. For an impromptu performance do speak to the restaurant in charge for details.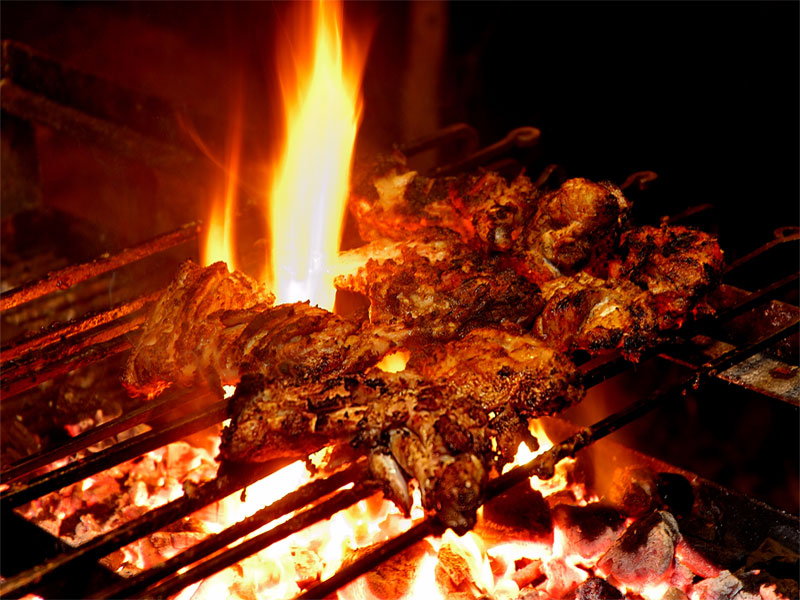 The barbeque evenings at Swapnagandha under the open moonlit sky are a special affair, with local veggies, fresh fish and meat barbeques being prepared to tickle all those taste buds. Enjoy a barbeque and participate in the process too along with other guests while our staff accompanies with humming local folk songs and traditional lore of region.
Depart from Swapnagandha after a scrumptious local breakfast and follow the hinterlands trail across meandering rivers and thick mangrove forests. Catch glimpses of old Hindu Goan home and temples and let our naturalists explain to you the hidden culture and traditions of these parts of unseen Goa. Relish local cuisine for lunch at Savoi Verem spice plantation where the host will serve you local gastronomic delights with a guided walk in the plantation. This coupled with birdcalls and folk dances are an experience that needs to be cherished in a setting that is a third generation family owned spice plantation.
Goa is as much known for its mackerels, locally known as 'Bangde' as it is known for its traditional rock salt, that according to many have medicinal properties. We combine the two in a traditional time tested method and fire it in rice hay, thus giving it a smoked flavor that will satisfy every discerning fish consouir! But first a little bit about mackerels- the Indian mackerel (Rastrelliger kanagurta) is a fish found in coastal waters and is locally known as the true Goan's favorite fish. The typical Goan fish curry is prepared using 'Bangde' and so are other traditional dishes like 'Solatle bangde', Reshad bangda, etc. The origins of Smoked mackerels are locally traced from the Ramponkar fishermen in Goa who would gather around an evening bonfire and use the fresh catch of the day to smoke mackerels along with a pint of beer or a peg of good old Goan hurrack. Today we invite you to join us under a moonlit sky and amidst serene settings to savor our 'Smoked mackerels' in the true traditional way…and say 'Dev barre karum' to an enjoyable evening in the wilds.
ROUTE : AJOBA- DATTA- VITHAL- TAMBDI SURLA- SHANTA DURGA MANGUESHI.
---
 Embark on a temple trip to some of Goa's most ancient and revered temples in the hinterlands and be mesmerized by their old world charm as well as serene and sacred surroundings.
 Ajoba Temple at Keri, Sattari
The reigning deity of the forest, Ajoba, is honoured by all the villagers irrespective of caste and creed, in this temple. The temple has one of Goa's largest sacred groves and the forest in this grove is unhampered till date. This grove called Ajobachi rai has a rich variety of woody creepers, trees, birds, animals and reptiles. The other deities worshipped are Goddess Sateri and Kelmai and Purush Dev of which carved icons can be seen. This is one of the most important temples of Sattari.
Shri Dattatreya Temple at Sanquelim.
This is a very famous temple of Shri Dattatreya is situated at Dattawadi in Sanquelim. The reigning deity is considered avatar of Brahma-Vishnu-Mahesh (Shiva). The deity idol is exquisite and at the entrance there are statues of Cow (depicting Earth), 4 Dogs (depicting 4 Vedas).
It is well known for offering a miraculous cure for mental troubles which the deity, the Hindu Trinity of Brahma, Vishnu and Maheshwar, cure. It is about a century old and has a back drop of a beautiful hillock covered with dense groves of areca palms. The most important festival, which is attended by devotees from all over Goa, is Datta Jayanti which falls in the month of December.
 The Shri Vithal Temple, Sanquelim
The Shri Vithal temple is yet another of the famous temples located in Sanquelim. This temple is dedicated to Lord Vithal, an incarnation of Lord Vishnu and originates back to 1942 AD. It was built by the Rane families who migrated from Udaipur about 600 years ago to Sanquelim.
The temple is built on the banks of the Valvanta River and was reconstructed in 1942. The main festivities of the temple is usually held for 9 days during the Ashadi Ekadashi and Kartik Ekadashi, the principal festival dedicated to Lord Vithal.
A huge chariot exquisitely carved in wood symbolizing the chariot of Arjuna driven by Lord Krishna in Mahabharata is the center of attraction in this magnificent temple.
 The Mahadev Temple, Tambdi Surla
This is a 12th-century Shaivite temple of the Lord Mahadeva and an active place of Hindu worship. It is regarded as one of the oldest temple in Goa.
It is also considered to be the only specimen of Kadamba-Yadava architecture in basalt stone preserved and available in Goa. The temple survived invasions and the Goa Inquisition due to its remote location in a clearing deep in the forest at the foot of the Western Ghats which surround the site.
The temple is dedicated to Lord Shiva and is reminiscent of the temples at Aihole in neighbouring Karnataka. There is a linga (symbol of Lord Shiva) mounted on a pedestal inside the inner sanctum, and local legend has it that a huge king cobra is in permanent residence in the dimly lit interior.
 The Shantadurga Temple, Kavale
The Shantadurga Temple is a large temple complex situated at the foothill of Kavalem village in Ponda Taluka, Goa. The temple is dedicated to Shantadurga, the goddess who mediates between Vishnu and Shiva. The deity is also called 'Santeri' colloquially. This avatar of Shree Jagdamba Devi which had come to make peace (Shanti) between Shree Vishnu and Shree Shiva, came to be known as Shree Shantadurga Devi. The deity of Shantadurga is shown as holding two serpents, one in each hand, representing Vishnu and Shiva.
The original temple at Cavellossim (Quelshim) in Salsette was destroyed by the Portuguese in 1564. The current temple was constructed during the reign of Maratha ruler Chatrapati Shahu Raje of Satara about 1738 A.D.
 The Mangesh temple, Mangueshi
The 400-year-old Shri Mangesh temple dedicated to Lord Shiva stands out with its simple and yet exquisitely elegant structure. The temple architecture consists of several domes, pilasters and balustrades. There is a prominent Nandi Bull and a beautiful seven-story deepstambha (lamp tower), which stands inside the temple complex. The temple also has a magnificent water tank, which is believed to be the oldest part of the temple
The main temple is dedicated to Bhagavan Manguesh, an incarnation of Shiva. Bhagavan Mangesh is worshipped here as Shiva linga. According to the legend, Lord Shiva had manifested into a tiger to scare his wife Parvati. Paravati, who was frightened at the sight of the tiger, went in search of Lord Shiva and cried out, "Trahi Mam girisha!" (Oh Lord of Mountains, save me!). Upon hearing the words, Lord Shiva turned himself back to his normal form. The words "mam girisha" became associated with Lord Shiva and over time the words got abbreviated to Manguirisha or Manguesh.
Total Page Visits: - Today Page Visits: